Western Arizona AHEC
---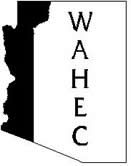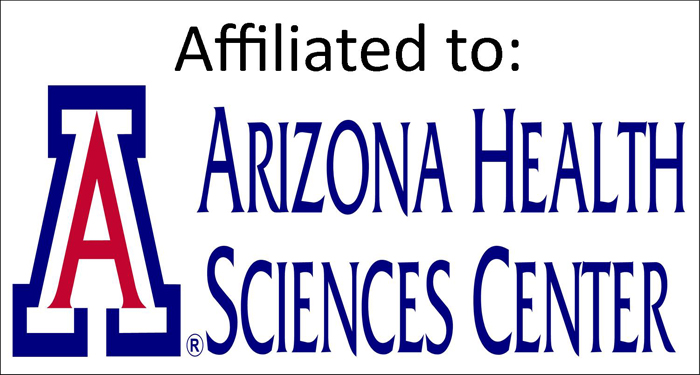 Mission:
The principal mission of Arizona's Area Health Education Centers (AHEC's) is to improve the health status of Arizona's rural and medically underserved communities through the improvement of retention, distribution, supply, diversity, quality and efficiency of health professionals serving these populations.
WAHEC is funded by the U.S. Department of Health and Human Services, Health Resources and Service Administration (HRSA)/Bureau of Health Professions, through the University of Arizona Health Science Center and the Arizona Area Health Education Center.
AHEC
An Area Health Education Center is a partnership between a School of Medicine and one or more local community agencies that jointly plan and conduct educational interventions, which improve the supply and distribution of health care professionals and access to care by medically underserved.
WAHEC
A program committed to improving the development, recruitment, distribution, supply, quality, utilization, and retention of health professionals in Arizona's rural and medically underserved areas of Yuma, La Paz, and Mohave Counties. WAHEC links educational resources with health care delivery systems through the provisions of: Student Field Placements, Continuing Education, Health Career Counseling and Recruitment, and the Enhancement of Learning Resource Systems. WAHEC is the second AHEC to be established in Arizona. Afiliated to the University of Arizona Health Sciences Center.
WAHEC Is Here To Meet Your Needs!
For teachers, counselors, and nurses in the schools of our communities, we can assist and collaborate in the planning and provision of health care programs for students. For university and community college programs preparing health care professionals, we can provide rural clinical educational experiences in multiple community sites. For health care personnel and physicians working in WAHEC's three county region, we can sponsor and/or co-sponsor quality continuing education programs (including CME offering C.E.U's on site at a low cost).
Goals And Objectives
Provide health professions educational programs that recruit rural minority, and socioeconomically disadvantaged students and that encourage graduates to serve in Arizona's rural and underserved communities.
Provide health professions continuing education programs and practice site educational support services that enhance the retention of health professionals serving in Arizona's rural and medically underserved communities.
Provide health promotion and disease prevention community health education programs for people who live and work in Arizona's rural and medically underserved communities.
Clinical Field Experiences
WAHEC acts as a bridge between the state's Universities/Community Colleges and the area's health care providers to develop and support clinical field placements for students of medicine, physicians assistant, pharmacy, nursing, and a variety of allied health educational programs (Physical Therapy, Social Work, Dental Hygienist, etc.). Local qualified preceptors work directly with students at their clinical experienced sites while WAHEC provides housing for these students during their stay. Through working with experienced professionals, the health care students gain exposure to the challenges of health care practice in areas where resources are limited and service need is high.
Development And Recruitment Of Health Professionals
Experience has shown that health career students from rural and underserved areas of those who receive field training in these areas are more likely to return to practice in rural areas once they complete their academic program than are urban-based students. WAHEC provides the following programs and services to encourage the students' return to Western Arizona.
Health Career Recruitment
A variety of health care professionals, school counselors, and the WAHEC program staff work together to provide quality career exploration experiences for students.
Health Occupation Students of America (HOSA) is a national student program recognized by the U.S. Department of Education and Health Science Education Division. The mission is to enhance the delivery of compassionate, quality health care by providing opportunities for knowledge, skill and leadership development of all health science education students.  HOSA promotes physical, mental and social wellbeing and assist students to develop effective leadership qualities. Students are encouraged to get involve in local, state and national health care and education projects. HOSA provides a unique program of leadership development, motivation, and recognition for students enrolled in health science or have interests in pursuing careers in health professions.
HOSA Clubs Sponsor by RCBH in Yuma, La Paz and Mohave County:
 

Yuma High School

Cibola High School
Kofa High School
San Luis High School
Antelope Union High School
Kingman High School
Lake Havasu High School
Parker High School
Retention Of Health Care Professionals
WAHEC assists health professionals in providing the best possible health care and encourage them to stay in rural and underserved areas. WAHEC provides local access to professionals' growth opportunities through the following programs.
Continuing Education: WAHEC sponsors & co-sponsors quality continuing education programs for health professionals throughout its service area. Programs are offered based on results of the area's needs, assessments as well as input from providers and advisory committees. Continuing Medical Education programs are provided on site to reduce the time that professional personnel must be away from their practice settings to take advantage of opportunities to stay current in their fields of practice.
Library/Learning Resources Access to current health information is an important supportive element in the clinical education of students and the continuing education of practicing personnel. WAHEC provides a library/learning resources network, which enables health care agencies and medical practitioners to utilize the resources of medical libraries within the state as well as throughout the nation.
SOMERTON, AZ
Regional Center for Border Health, Inc.
Administration Headquarters
950 E. Main Street, Building A
Somerton, AZ 85350

Mailing Address:
P.O. Box 617
Somerton AZ 85350
Phone: (928) 315-7910
Fax: (928) 627-1255
---
Regional Center for Border Health, Inc.
Family Behavioral Integrated Services
214 W. Main Street
Somerton, AZ 85350

Mailing Address:
P.O. Box 617
Somerton AZ 85350
Phone: (928) 627-9222
Fax: (928) 627-8315
View Map
---
Family Behavioral Integrated Services
1130 E. Main Street
Somerton, AZ 85350

Phone: (928) 627-2017
Fax: (928) 627-2168
---
Center for Children with Special Needs and Autism
214 W. Main Street
Somerton, AZ 85350

---
College of Health Careers
950 E. Main Street, Building A
Somerton, Arizona
Phone: 928-315-7600
Fax: (928) 627-1013

---
SAN LUIS, AZ
San Luis Walk-In Clinic, Inc.
1896 E. Babbitt Lane
San Luis, AZ 85349
Mailing Address:
P.O. Box 1669
San Luis AZ 85349
Phone: (928) 722-6112
Fax: (928) 550-5466
View Map
---
YUMA, AZ
Billing Office:
330 W. 24th St. Ste-2
Yuma, Arizona
(928) 276-3414
Phone:(928) 276-3414
Fax: (928) 276-4823
---
LAKE HAVASU, AZ
Mohave County Office
1940 Mesquite Ave, Suite A
Lake Havasu City, AZ 86403

Phone: (928) 680-1468
Fax: (928) 680-3435
View Map
---
PARKER, AZ
La Paz County Office
601 Riverside Dr #7
Parker, AZ 86344

Phone: (928) 669-4436
Fax: (928) 669-4435
View Map
---
Parker Walk-In Clinic
601 E. Riverside Drive, Ste 2 & 4
Parker, AZ 86344

Phone: (928) 256-4110
Fax: (928) 256-4111

---
Mobile Medical Unit
Yuma, Mohave and La Paz Counties
Phone: (928) 722-6112