Asthma Camp
---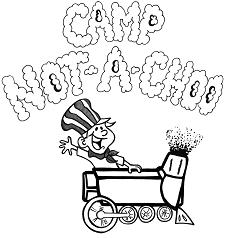 The Camp Not A-Choo is a great experience for 8-11 years old. This camp has consistently been well attended by children who suffer from asthma and has been well staffed by volunteer professionals and para-professional individuals from through out Yuma County and members from other parts of the Arizona.
Goal
The goal of the Yuma County Asthma Camp for the Annual Camp Not-A-Choo is to teach children with moderate to severe asthma the self-management techniques that will help them control their asthma in a fun and exciting camp setting.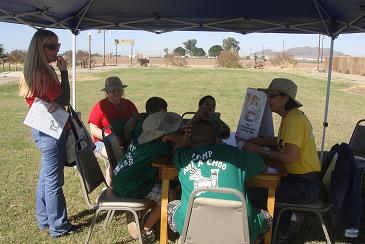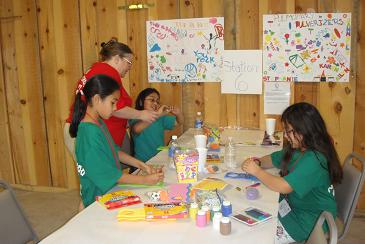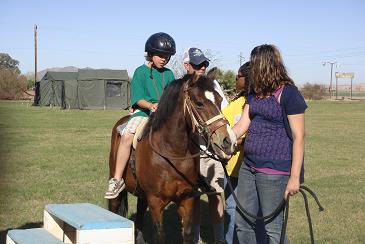 A team of volunteer medical professionals including respiratory therapists as well as other healthcare professionals unite towards this goal of teaching asthma management for children ages 8-11 as they help screen and recommend changes that will ultimately have a positive impact in their lives.
During camp children learn about asthma self management through a group of health professionals services which include: doctors, nurses, respiratory therapists and other health care professional who also provide 24 hour supervision to the campers.
Camp Activities
Therapy Dogs

Prescribed Medicines Safe Managment
Arts & Crafts
Toys
Games & Sports
Latin Dance
Folkloric Dance
Handouts & Gifts
Asthma Education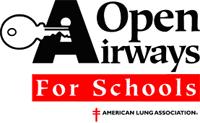 Campers can learn to manage their own asthma when they participate in the American Lung Association's Open Airways For Schools program.
The American Lung Association's Open Airways For Schools program educates and empowers children through a fun and interactive approach to asthma self-management. It teaches children how to detect the warning signs of asthma, avoid their triggers and make decisions about their health.
Camper Selection Process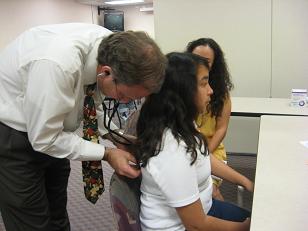 All applications will be carefully considered before making a selection. No applicant will be denied due to race, religion, gender, or ethnic background. Download Application
Yuma Asthma Camp Not-A-Choo is brought to you by:
Regional Center for Border Health, Inc.
Western Arizona Area Health Education Center
Contact Us
Regional Center for Border Health, Inc.
950 E. Main Street 
Somerton, AZ 85350 
(928) 236-8001
SOMERTON, AZ
Regional Center for Border Health, Inc.
Administration Headquarters
950 E. Main Street, Building A
Somerton, AZ 85350

Mailing Address:
P.O. Box 617
Somerton AZ 85350
Phone: (928) 315-7910
Fax: (928) 627-1255
---
Regional Center for Border Health, Inc.
Family Behavioral Integrated Services
214 W. Main Street
Somerton, AZ 85350

Mailing Address:
P.O. Box 617
Somerton AZ 85350
Phone: (928) 627-9222
Fax: (928) 627-8315
View Map
---
Family Behavioral Integrated Services
1130 E. Main Street
Somerton, AZ 85350

Phone: (928) 627-2017
Fax: (928) 627-2168
---
Center for Children with Special Needs and Autism
214 W. Main Street
Somerton, AZ 85350

---
College of Health Careers
950 E. Main Street, Building A
Somerton, Arizona
Phone: 928-315-7600
Fax: (928) 627-1013

---
SAN LUIS, AZ
San Luis Walk-In Clinic, Inc.
1896 E. Babbitt Lane
San Luis, AZ 85349
Mailing Address:
P.O. Box 1669
San Luis AZ 85349
Phone: (928) 722-6112
Fax: (928) 550-5466
View Map
---
YUMA, AZ
Billing Office:
330 W. 24th St. Ste-2
Yuma, Arizona
(928) 276-3414
Phone:(928) 276-3414
Fax: (928) 276-4823
---
LAKE HAVASU, AZ
Mohave County Office
1940 Mesquite Ave, Suite A
Lake Havasu City, AZ 86403

Phone: (928) 680-1468
Fax: (928) 680-3435
View Map
---
PARKER, AZ
La Paz County Office
601 Riverside Dr #7
Parker, AZ 86344

Phone: (928) 669-4436
Fax: (928) 669-4435
View Map
---
Parker Walk-In Clinic
601 E. Riverside Drive, Ste 2 & 4
Parker, AZ 86344

Phone: (928) 256-4110
Fax: (928) 256-4111

---
Mobile Medical Unit
Yuma, Mohave and La Paz Counties
Phone: (928) 722-6112