Anti-Bullying Awareness
---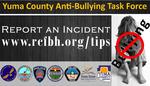 The Yuma County Anti‐Bullying Task Force was formed in 2008 in an effort to raise awareness regarding such a sensitive and difficult issue in rural Yuma County, Arizona.
The Regional Center for Border Health, Inc. (RCBH), along with the Yuma County Task Force has a reporting website available for the public to help improve student safety efforts.
Through the use of Awareity's TIPS, a web‐based incident management and prevention platform, the Community Action Group is encouraging students, parents, staff, and community members to report incidents of bullying, threats of violence, weapons, drugs/alcohol, vandalism, sexting, suicide and other risks.
What is Bullying?
Bullying is when someone keeps doing or saying things to have power over another person.
Types of Bullying:
Physical: includes any physical contact that would hurt or injure a person like hitting, kicking, punching, etc.

Verbal: is name-calling, making offensive remarks, or joking about a person's religion, gender, ethnicity, socioeconomic status, or the way they look.

Indirect: includes spreading rumors or stories about someone, telling others about something that was told to you in private, and excluding others from groups.

Social Exclusion: is when a bully excludes someone from a group on purpose.

Intimidation: is when a bully threatens someone else and frightens that person enough to make him or her do what the bully wants.

Cyber bullying: is done by sending messages, pictures, or information using electronic media, computers (email & instant messages), or cell phones (text messaging & voicemail.
Consequences for the Victim:
Failure and learning difficulties

High levels of anxiety

May develop school phobia

Development of unsafe and unhealthy personality

Low self-esteem

Difficulty integrating in social and academic settings

Clinical symptoms: anxiety, hysteria and depression

Violent behavior
Resources:
Counseling

Educational sessions

Prevention tips

Reporting website

Low self-esteem
Stakeholders:
Regional Center for Border Health, Inc.

Yuma Union High School District

City of Yuma Police Department

City of San Luis Police Department

City of Somerton Police Department

Yuma County Sheriff's Office

Yuma County Board of Supervisors

Cocopah Indian Tribe

Yuma County Attorney's Office

Yuma County Superintendents Office
The program is available to ALL Yuma County Schools (Public or Private)
For more information call 928‐627‐9222 or e‐mail tips@rcfbh.org
SOMERTON, AZ
Regional Center for Border Health, Inc.
Administration Headquarters
950 E. Main Street, Building A
Somerton, AZ 85350

Mailing Address:
P.O. Box 617
Somerton AZ 85350
Phone: (928) 315-7910
Fax: (928) 627-1255
---
Regional Center for Border Health, Inc.
Family Behavioral Integrated Services
214 W. Main Street
Somerton, AZ 85350

Mailing Address:
P.O. Box 617
Somerton AZ 85350
Phone: (928) 627-9222
Fax: (928) 627-8315
View Map
---
Family Behavioral Integrated Services
1130 E. Main Street
Somerton, AZ 85350

Phone: (928) 627-2017
Fax: (928) 627-2168
---
Center for Children with Special Needs and Autism
214 W. Main Street
Somerton, AZ 85350

---
SAN LUIS, AZ
San Luis Walk-In Clinic, Inc.
1896 E. Babbitt Lane
San Luis, AZ 85349
Mailing Address:
P.O. Box 1669
San Luis AZ 85349
Phone: (928) 722-6112
Fax: (928) 550-5466
View Map
---
YUMA, AZ
College of Health Careers
950 E. Main Street, Building A
Somerton, Arizona
Phone: 928-315-7600
Fax: (928) 627-1013

Billing Office:
330 W. 24th St. Ste-2
Yuma, Arizona
(928) 276-3414
Phone:(928) 276-3414
Fax: (928) 276-4823
---
LAKE HAVASU, AZ
Mohave County Office
1947 McCulloch Blvd # 105
Lake Havasu, AZ 86403

Phone: (928) 680-1468
Fax: (928) 680-3435
View Map
---
PARKER, AZ
La Paz County Office
601 Riverside Dr #7
Parker, AZ 86344

Phone: (928) 669-4436
Fax: (928) 669-4435
View Map
---
Mobile Medical Unit
Yuma, Mohave and La Paz Counties
Phone: (928) 722-6112