Youth Summer Program Nuestros Niños
---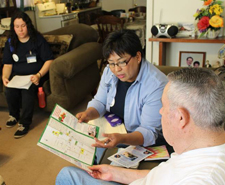 Since 1998, the Regional Center for Border Health, Inc. has conducted its annual "Nuestros Niños/Nuestra Comunidad" Healthcare Community Census and Immunization Campaign in the border communities of San Luis, Gadsden, Somerton and Yuma, Arizona.
The RCBH's outreach campaign is a six-week door-to-door community based census designated to identify and collect information from underserved/disadvantaged families by working with a cadre of Community Outreach Workers/Promotoras and High School Students, participating in the summer Youth Training Program.
The community-based census targets; children in need of healthcare coverage, children under 36 months and school age children in need of immunizations, pregnant women in need of prenatal care, migrant families with no medical insurance in need of resources.
The Regional Center for Border Health, Inc. has incorporated the use of the Family Care Coordinators/Promotores de Salud as an effective mean of reaching families and helping them overcome barriers to accessing healthcare such as: language, fear of authority, illiteracy, lack of education and cultural differences. By training Promotores who are members of the community, RCBH, Inc. has been able to recognize and begin to address the need of quality healthcare for the underserved populations of South Yuma County.
Every Summer, the Regional Center for Border Health, Inc. (RCBH) sponsors the Nuestros Ninos Health Fair and Free Immunization Campaign, in the border communities of San Luis, Somerton and Yuma, Arizona. The Health Fair and Immunization Campaign are designed to provide families with information about local resources and enrollment into public assistance programs such as: healthcare coverage, cash assistance, SNAP, WIC and other needed resources. In addition, RCBH enrolls families into AHCCCS and KidsCare. If families do not qualify for AHCCCS, the RCBH staff enrolls families on the CAPAZ-MEX Medical Discount Network Program. The CAPAZ-MEX is a medical discount network designed to serve as a safety net for the uninsured families who do not qualify for AHCCCS or KidsCare and it has been in operation since 2000.
The 18th Annual "Nuestros Niños/Nuestra Comunidad" Healthcare Census Campaign visited 3009 homes in Somerton and San Luis and reached 501 families. RCBH Promotores identified 557 children and 1131 adults and assisted these individual with the enrollment process into the KidsCare and AHCCCS Programs.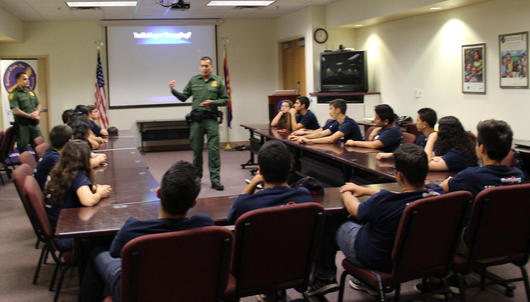 Agencies participating were: Cenpatico of Arizona, Chicanos Por La Causa, First Smiles- University of Arizona Coop Ext., Arizona's Children Association, Sunset Community Health Center, Yuma County Public Health Services District, Yuma County Health Department,  Arizona Workforce Connection/YPIC, and US Border Patrol - Yuma Sector.
Other activities offered to children included face painting, recycling activities and games, engaging children in different physical activities and games; in addition recycling activities included art made from recycle materials. Airplanes were made from recycled file folders and decorated with glitter and paint.
SOMERTON, AZ
Regional Center for Border Health, Inc.
Administration Headquarters
950 E. Main Street, Building A
Somerton, AZ 85350

Mailing Address:
P.O. Box 617
Somerton AZ 85350
Phone: (928) 315-7910
Fax: (928) 627-1255
---
Regional Center for Border Health, Inc.
Family Behavioral Integrated Services
214 W. Main Street
Somerton, AZ 85350

Mailing Address:
P.O. Box 617
Somerton AZ 85350
Phone: (928) 627-9222
Fax: (928) 627-8315
View Map
---
Family Behavioral Integrated Services
1130 E. Main Street
Somerton, AZ 85350

Phone: (928) 627-2017
Fax: (928) 627-2168
---
Center for Children with Special Needs and Autism
214 W. Main Street
Somerton, AZ 85350

---
College of Health Careers
950 E. Main Street, Building A
Somerton, Arizona
Phone: 928-315-7600
Fax: (928) 627-1013

---
SAN LUIS, AZ
San Luis Walk-In Clinic, Inc.
1896 E. Babbitt Lane
San Luis, AZ 85349
Mailing Address:
P.O. Box 1669
San Luis AZ 85349
Phone: (928) 722-6112
Fax: (928) 550-5466
View Map
---
YUMA, AZ
Billing Office:
330 W. 24th St. Ste-2
Yuma, Arizona
(928) 276-3414
Phone:(928) 276-3414
Fax: (928) 276-4823
---
LAKE HAVASU, AZ
Mohave County Office
1940 Mesquite Ave, Suite A
Lake Havasu City, AZ 86403

Phone: (928) 680-1468
Fax: (928) 680-3435
View Map
---
PARKER, AZ
La Paz County Office
601 Riverside Dr #7
Parker, AZ 86344

Phone: (928) 669-4436
Fax: (928) 669-4435
View Map
---
Parker Walk-In Clinic
601 E. Riverside Drive, Ste 2 & 4
Parker, AZ 86344

Phone: (928) 256-4110
Fax: (928) 256-4111

---
Mobile Medical Unit
Yuma, Mohave and La Paz Counties
Phone: (928) 722-6112