News
---
San Luis Walk In Clinic, Inc. (rural health clinic) Recognized by the American Heart Association "GOLD STATUS"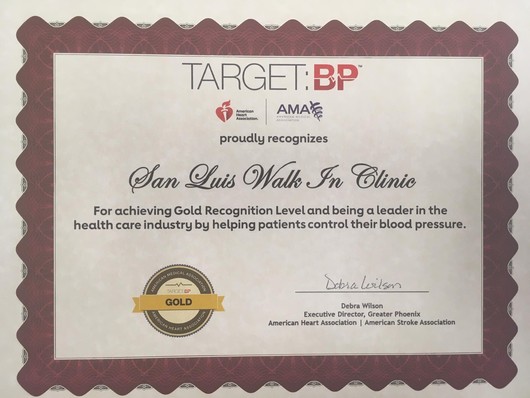 Yuma, AZ – (October 25, 2018).- The Regional Center for Border Health, Inc./San Luis Walk-In Clinic, Inc. is proud to announce that the American Heart Association awarded it with the Gold Status with Target PB.
According to Ms. Julie Garcia, with the American Heart Association, the Target BO Recognition Program celebrates physician practices and health systems, who treat patients with hypertension, for achieving blood pressure control rates at or above 70 percent within the populations they serve.
These achievements will ultimately lead to a reduction in the number of Americans who suffer heart attacks and strokes.
The American Heart Association and the American Medical Association acknowledged early adopters of this initiative, recognized over 300 organizations in 2017, and is thrilled to recognize nearly 800 organizations in 2018, which includes San Luis Walk-In Clinic, Inc.
"We are so proud to be awarded by this nation-wide recognition, which means we are accomplishing our goal of promoting healthy communities and making our mission a reality each day", said Ms. Amanda Aguirre, President and CEO of the Regional Center for Border Health, Inc./SLWIC.
Former State of Arizona Senator Ms. Aguirre also said that the RCBH/SLWIC has implemented several programs to serve the Yuma County community to reduce the risks that chronic diseases bring with them.
###
Media Contact:
Alex Bejarano, Community Liaison & Director of Public Relations 928-315-7910 abejarano@rcfbh.org
SOMERTON, AZ
Regional Center for Border Health, Inc.
Administration Headquarters
950 E. Main Street, Building A
Somerton, AZ 85350

Mailing Address:
P.O. Box 617
Somerton AZ 85350
Phone: (928) 315-7910
Fax: (928) 627-1255
---
Regional Center for Border Health, Inc.
Family Behavioral Integrated Services
214 W. Main Street
Somerton, AZ 85350

Mailing Address:
P.O. Box 617
Somerton AZ 85350
Phone: (928) 627-9222
Fax: (928) 627-8315
View Map
---
Family Behavioral Integrated Services
1130 E. Main Street
Somerton, AZ 85350

Phone: (928) 627-2017
Fax: (928) 627-2168
---
Center for Children with Special Needs and Autism
214 W. Main Street
Somerton, AZ 85350

---
SAN LUIS, AZ
San Luis Walk-In Clinic, Inc.
1896 E. Babbitt Lane
San Luis, AZ 85349
Mailing Address:
P.O. Box 1669
San Luis AZ 85349
Phone: (928) 722-6112
Fax: (928) 550-5466
View Map
---
YUMA, AZ
College of Health Careers
950 E. Main Street, Building A
Somerton, Arizona
Phone: 928-315-7600
Fax: (928) 627-1013

Billing Office:
330 W. 24th St. Ste-2
Yuma, Arizona
(928) 276-3414
Phone:(928) 276-3414
Fax: (928) 276-4823
---
LAKE HAVASU, AZ
Mohave County Office
1947 McCulloch Blvd # 105
Lake Havasu, AZ 86403

Phone: (928) 680-1468
Fax: (928) 680-3435
View Map
---
PARKER, AZ
La Paz County Office
601 Riverside Dr #7
Parker, AZ 86344

Phone: (928) 669-4436
Fax: (928) 669-4435
View Map
---
Mobile Medical Unit
Yuma, Mohave and La Paz Counties
Phone: (928) 722-6112