News
---
RCBH to host the 5th Annual Arizona Biomedical Research Center Forum in Yuma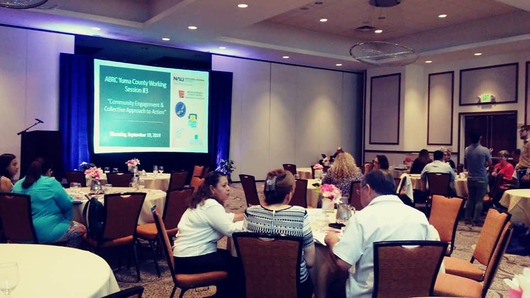 Yuma, AZ – (May, 2023). - The Regional Center for Border Health, Inc., is collaborating with the Northern Arizona University's Center for Health Equity Research (CHER) and Arizona Biomedical Research Centre (ABRC) to host the 5th Annual Yuma ABRC Forum with the theme "Collaborative Partnerships, Translating Research to Practice."
The workshop will be held on Thursday, May 25, 2023, from 7:30 am to 3:30 pm, at the Pivot Point Conference Center, 310 N. Madison Avenue, in Yuma, Arizona.
According to Ms. Amanda Aguirre former State of Arizona Senator and current President & CEO of Regional Center for Border Health, Inc., this workshop will focus on four on-going areas of research education and program development: Binational Border Health; Community Engagement; Clinical and Community Health Research Based Agenda; and Workforce Development.
The agenda will start with Welcome remarks by Ms. Aguirre, and Mr. Michael J. Sabath, PhD Associate Vice President, and CEO with NAU Yuma Campus.
Keynote speaker will be Mr. Jose Luis Cruz Rivera, PhD, President of NAU.
Presentations followed by breakout sessions include the following:
Successes at NAU: Research into Actions and Measurable Outcomes, by Mr. Robert Trotter II, PhD, Regents' Professor Emeritus of Anthropology with NAU CHER; and Mr. John Garcia, MBA, CPM, Program Director with ABRC.
Educational Partnerships with Mexican Universities: How Do They Benefit Individuals, Institutions, and the Region?, by Mrs. Yimin Wang, PhD Vice Provost for Global Affairs with NAU.
ADHS Health Equity Report State Health Improvement Plan, by Ms. Michelle Kreutzber-Martinez Border Health Liaison with ADHS.
For more information please contact Mrs. Mariajose Almazan, Executive Assistant to the President & CEO of RCBH at mrincon@rcfbh.org or call (928) 315-7910.
###
Media Contact: Alex Bejarano, Public Relations Director
928-315-7910 / abejarano@rcfbh.org
SOMERTON, AZ
Regional Center for Border Health, Inc.
Administration Headquarters
950 E. Main Street, Building A
Somerton, AZ 85350

Mailing Address:
P.O. Box 617
Somerton AZ 85350
Phone: (928) 315-7910
Fax: (928) 627-1255
---
Regional Center for Border Health, Inc.
Family Behavioral Integrated Services
214 W. Main Street
Somerton, AZ 85350

Mailing Address:
P.O. Box 617
Somerton AZ 85350
Phone: (928) 627-9222
Fax: (928) 627-8315
View Map
---
Family Behavioral Integrated Services
1130 E. Main Street
Somerton, AZ 85350

Phone: (928) 627-2017
Fax: (928) 627-2168
---
Center for Children with Special Needs and Autism
214 W. Main Street
Somerton, AZ 85350

---
College of Health Careers
950 E. Main Street, Building A
Somerton, Arizona
Phone: 928-315-7600
Fax: (928) 627-1013

---
SAN LUIS, AZ
San Luis Walk-In Clinic, Inc.
1896 E. Babbitt Lane
San Luis, AZ 85349
Mailing Address:
P.O. Box 1669
San Luis AZ 85349
Phone: (928) 722-6112
Fax: (928) 550-5466
View Map
---
YUMA, AZ
Billing Office:
330 W. 24th St. Ste-2
Yuma, Arizona
(928) 276-3414
Phone:(928) 276-3414
Fax: (928) 276-4823
---
LAKE HAVASU, AZ
Mohave County Office
1940 Mesquite Ave, Suite A
Lake Havasu City, AZ 86403

Phone: (928) 680-1468
Fax: (928) 680-3435
View Map
---
PARKER, AZ
La Paz County Office
601 Riverside Dr #7
Parker, AZ 86344

Phone: (928) 669-4436
Fax: (928) 669-4435
View Map
---
Parker Walk-In Clinic
601 E. Riverside Drive, Ste 2 & 4
Parker, AZ 86344

Phone: (928) 256-4110
Fax: (928) 256-4111

---
Mobile Medical Unit
Yuma, Mohave and La Paz Counties
Phone: (928) 722-6112