News
---
RCBH to celebrate 21st Annual "Nuestros Niños" Health Fair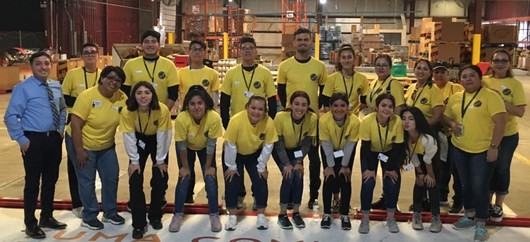 The Health Fair is a part of the community outreach campaign for local teenagers who are invited each year since 1998 to the "Nuestros Niños/Nuestra Comunidad" Healthcare Community Census
Yuma, AZ – (June 27, 2019) .- The Regional Center for Border Health, Inc./San Luis Walk-In Clinic, Inc. is inviting the communities to attend the 21st Annual "Nuestros Niños" Health Fair to be celebrated in both San Luis and Somerton rural clinics coming in July.
Every Summer, the Regional Center for Border Health, Inc. (RCBH) sponsors the Nuestros Niños Health Fair and Free Immunization Campaign, in the border communities of San Luis, Somerton and Yuma, Arizona, to provide families with information about local resources and enrollment into public assistance programs such as: healthcare coverage, cash assistance, SNAP, WIC and other needed resources.
According to Mr. Alex Bejarano, Community Liaison & Director of Public Relations, the Health Fair is a part of the community outreach campaign for local teenagers who are invited each year since 1998 to the "Nuestros Niños/Nuestra Comunidad" Healthcare Community Census, which started this year on June 4.
The RCBH's outreach campaign is a six-week door-to-door community-based census designated to identify and collect information from underserved/disadvantaged families by working with a cadre of Community Outreach Workers/Promotoras and High School Students
Students have been participated in several activities such as presentations from US Border Patrol, Congressman Raul M. Grijalva local representation office, professionals from the area, among others, to learn about careers they can achieve to serve in our community.
The 21st Annual "Nuestros Niños" Health Fair will be held from 8am-11am at the following San Luis Walk-In Clinic, Inc. locations and dates:
Thursday, July 11 Friday, July 12
1896 E. Babbitt Lane 950 E. Main Street
San Luis, Arizona Somerton, Arizona
###
Media Contact:
Alex Bejarano, Community Liaison & Director of Public Relations 928-315-7910 abejarano@rcfbh.org
SOMERTON, AZ
Regional Center for Border Health, Inc.
Administration Headquarters
950 E. Main Street, Building A
Somerton, AZ 85350

Mailing Address:
P.O. Box 617
Somerton AZ 85350
Phone: (928) 315-7910
Fax: (928) 627-1255
---
Regional Center for Border Health, Inc.
Family Behavioral Integrated Services
214 W. Main Street
Somerton, AZ 85350

Mailing Address:
P.O. Box 617
Somerton AZ 85350
Phone: (928) 627-9222
Fax: (928) 627-8315
View Map
---
Family Behavioral Integrated Services
1130 E. Main Street
Somerton, AZ 85350

Phone: (928) 627-2017
Fax: (928) 627-2168
---
Center for Children with Special Needs and Autism
214 W. Main Street
Somerton, AZ 85350

---
College of Health Careers
950 E. Main Street, Building A
Somerton, Arizona
Phone: 928-315-7600
Fax: (928) 627-1013

---
SAN LUIS, AZ
San Luis Walk-In Clinic, Inc.
1896 E. Babbitt Lane
San Luis, AZ 85349
Mailing Address:
P.O. Box 1669
San Luis AZ 85349
Phone: (928) 722-6112
Fax: (928) 550-5466
View Map
---
YUMA, AZ
Billing Office:
330 W. 24th St. Ste-2
Yuma, Arizona
(928) 276-3414
Phone:(928) 276-3414
Fax: (928) 276-4823
---
LAKE HAVASU, AZ
Mohave County Office
1947 McCulloch Blvd # 105
Lake Havasu, AZ 86403

Phone: (928) 680-1468
Fax: (928) 680-3435
View Map
---
PARKER, AZ
La Paz County Office
601 Riverside Dr #7
Parker, AZ 86344

Phone: (928) 669-4436
Fax: (928) 669-4435
View Map
---
Mobile Medical Unit
Yuma, Mohave and La Paz Counties
Phone: (928) 722-6112