News
---
RCBH supports SLHS HOSA Club members who will attend the 42nd HOSA International Leadership Conference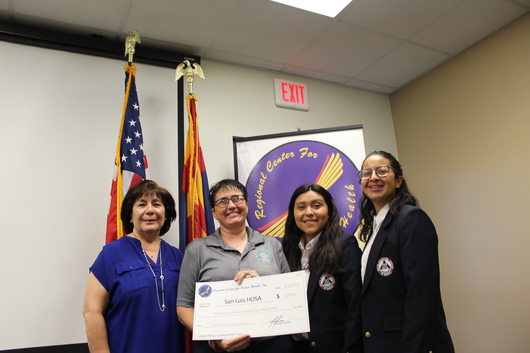 Yuma, AZ – (May 16th, 2019).- To make possible for San Luis High School HOSA Club members Justine Rodriguez and Carina Diaz to attend the HOSA 42nd Annual International Leadership Conference, Ms. Amanda Aguirre, former State of Arizona Senator and current President & CEO of the Regional Center for Border Health, Inc., presented a donation for 3,750 dollars this week.
Ms. Aguirre congratulated both students and their Instructor, Ms. Kimberly Elg, since they will be representing Arizona during the event in Orlando, Florida, in June 19-22, 2019.
In April, the HOSA Club members won second place during the HOSA State Conference in Tucson, Arizona, and got the pass to participate at the international level.
According to Carina Diaz, they will be presenting on the Community Emergency Response Team, a group of certified members who help emergency responders in case of a mass casualty event.
"When there is natural disaster, terrorist attacks, or anything that causes mass casualties, CERT can be there to help out the community," said Diaz.
Ms. Elg, and instructor of Emergency Medical Services at San Luis High School, added that this is the second year for the HOSA Club competing and they are grateful with Regional Center for Border Health, Inc. supporting them.
Ms. Aguirre expressed, "I am so glad to see you both are interested in doing something for your community, not only as students, making us proud of your academic achievements, but because you will surely be Health Care professionals."
Rodriguez revealed, "I am studying to be a Social Workers, so I will be going to U of A to study Social Behavior," and Diaz said, "I will finish community college at AWC and will start Nursing and after 2 years I hope I can become a Registered Nurse and give back to the community."
The mission of HOSA is to empower HOSA-Future Health Professionals to become leaders in the global health community through education, collaboration, and experience.
Regional Center for Border Health, Inc. has supported Yuma County HOSA Club members for years to help them pave the pathway to success.
To learn more about HOSA please visit www.hosa.org.
##
Media Contact:
Alex Bejarano, Community Liaison & Director of Public Relations 928-315-7910 abejarano@rcfbh.org
SOMERTON, AZ
Regional Center for Border Health, Inc.
Administration Headquarters
950 E. Main Street, Building A
Somerton, AZ 85350

Mailing Address:
P.O. Box 617
Somerton AZ 85350
Phone: (928) 315-7910
Fax: (928) 627-1255
---
Regional Center for Border Health, Inc.
Family Behavioral Integrated Services
214 W. Main Street
Somerton, AZ 85350

Mailing Address:
P.O. Box 617
Somerton AZ 85350
Phone: (928) 627-9222
Fax: (928) 627-8315
View Map
---
Family Behavioral Integrated Services
1130 E. Main Street
Somerton, AZ 85350

Phone: (928) 627-2017
Fax: (928) 627-2168
---
Center for Children with Special Needs and Autism
214 W. Main Street
Somerton, AZ 85350

---
College of Health Careers
950 E. Main Street, Building A
Somerton, Arizona
Phone: 928-315-7600
Fax: (928) 627-1013

---
SAN LUIS, AZ
San Luis Walk-In Clinic, Inc.
1896 E. Babbitt Lane
San Luis, AZ 85349
Mailing Address:
P.O. Box 1669
San Luis AZ 85349
Phone: (928) 722-6112
Fax: (928) 550-5466
View Map
---
YUMA, AZ
Billing Office:
330 W. 24th St. Ste-2
Yuma, Arizona
(928) 276-3414
Phone:(928) 276-3414
Fax: (928) 276-4823
---
LAKE HAVASU, AZ
Mohave County Office
1947 McCulloch Blvd # 105
Lake Havasu, AZ 86403

Phone: (928) 680-1468
Fax: (928) 680-3435
View Map
---
PARKER, AZ
La Paz County Office
601 Riverside Dr #7
Parker, AZ 86344

Phone: (928) 669-4436
Fax: (928) 669-4435
View Map
---
Mobile Medical Unit
Yuma, Mohave and La Paz Counties
Phone: (928) 722-6112