News
---
RCBH/SLWIC to Celebrate American Heart Month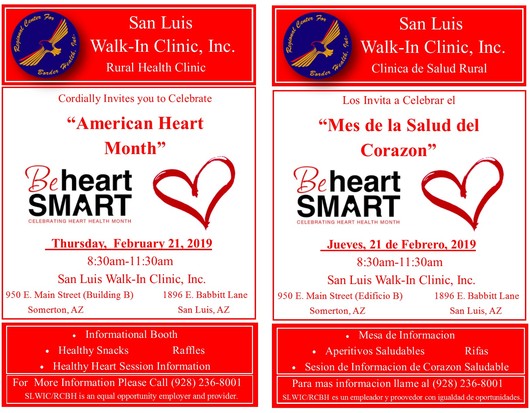 (Yuma, Arizona) .- The Regional Center for Border Health, Inc./San Luis Walk-In Clinic, Inc. is celebrating the American Heart Month with this year theme "Be Heart Smart", to remind residents to focus on their hearts and encourage them to get their families, friends and communities involved.
According to the American Heart Association, heart disease is the leading cause of death for men and women in the United States. Every year, 1 in 4 deaths are caused by heart disease.
The good news is that heart disease can often be prevented when people make healthy choices and manage their health conditions, that is why the RCBH/SLWIC a Rural Health Clinic is inviting all the community to join the celebration of the American Heart Month on Thursday, February 21st, 2019 from 8:30 to 11:30 am, at the following locations:
Somerton, Arizona:
950 E. Main Street (Building B)
San Luis, Arizona:
1896 E. Babbitt Lane
There will be an informational booth, a Healthy Heart Session, healthy snacks, and raffles at both locations.
For more information, please call (928) 236-8001.
SOMERTON, AZ
Regional Center for Border Health, Inc.
Administration Headquarters
950 E. Main Street, Building A
Somerton, AZ 85350

Mailing Address:
P.O. Box 617
Somerton AZ 85350
Phone: (928) 315-7910
Fax: (928) 627-1255
---
Regional Center for Border Health, Inc.
Family Behavioral Integrated Services
214 W. Main Street
Somerton, AZ 85350

Mailing Address:
P.O. Box 617
Somerton AZ 85350
Phone: (928) 627-9222
Fax: (928) 627-8315
View Map
---
Family Behavioral Integrated Services
1130 E. Main Street
Somerton, AZ 85350

Phone: (928) 627-2017
Fax: (928) 627-2168
---
Center for Children with Special Needs and Autism
214 W. Main Street
Somerton, AZ 85350

---
College of Health Careers
950 E. Main Street, Building A
Somerton, Arizona
Phone: 928-315-7600
Fax: (928) 627-1013

---
SAN LUIS, AZ
San Luis Walk-In Clinic, Inc.
1896 E. Babbitt Lane
San Luis, AZ 85349
Mailing Address:
P.O. Box 1669
San Luis AZ 85349
Phone: (928) 722-6112
Fax: (928) 550-5466
View Map
---
YUMA, AZ
Billing Office:
330 W. 24th St. Ste-2
Yuma, Arizona
(928) 276-3414
Phone:(928) 276-3414
Fax: (928) 276-4823
---
LAKE HAVASU, AZ
Mohave County Office
1940 Mesquite Ave, Suite A
Lake Havasu City, AZ 86403

Phone: (928) 680-1468
Fax: (928) 680-3435
View Map
---
PARKER, AZ
La Paz County Office
601 Riverside Dr #7
Parker, AZ 86344

Phone: (928) 669-4436
Fax: (928) 669-4435
View Map
---
Parker Walk-In Clinic
601 E. Riverside Drive, Ste 2 & 4
Parker, AZ 86344

Phone: (928) 256-4110
Fax: (928) 256-4111

---
Mobile Medical Unit
Yuma, Mohave and La Paz Counties
Phone: (928) 722-6112