News
---
RCBH launches first Longitudinal Integrated Clerkship as a part of its Undergraduate Medical Education Program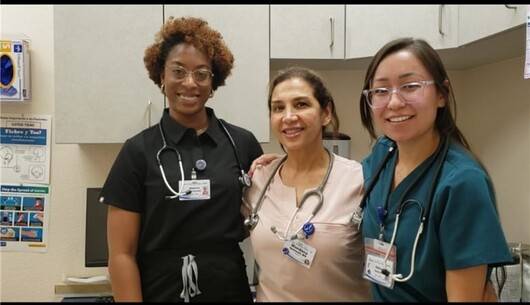 Yuma, AZ – (June 5, 2023). - The Regional Center for Border Health, Inc., is pleased to announce the launch of the Longitudinal Integrated Clerkship with the participation of two third-year College of Medicine students from the University of Arizona.
According to Ms. Joena Ezroj, Director of Western Arizona Area Health Education Center (WAHEC), LIC is an advanced schedule of medical education where medical students can learn in an experiential environment, working with, and supervised by, clinical preceptors.
LIC students learn in a rural healthcare setting and acquire clinical skills and medical knowledge in a context of continuity with patients, medical staff, and the community.
LIC Program Goals
Prepare students to become rural physicians in areas of medical knowledge and clinical experience by immersing them in a rural health community.
Enable students to establish continuity relationships with patients, their treatment teams and faculty preceptors, and treatment settings across the care continuum.
Create continuity with a community of peer learners.
Shift the emphasis of education from the hospital to the clinic.
Develop personal skills, habits of inquiry, and systems-level quality improvement with a focus on excellence and patient safety in rural settings.
Ms. Amanda Aguirre, former Arizona State Senator and current President & CEO, Regional Center for Border Health, Inc. stated, "we are pleased that we are able to contribute to the pipeline of Arizona's medical students in preparing them to be able to pursue their formal residency program. In particularly, having to experience in working in rural clinical settings such as our Rural Health Clinic San Luis Walk In Clinic, Inc., and learning and understanding the needs of underserved rural communities. It is our hope that they will choose after completion of their family residency program to practice in a rural community in Arizona."
LIC Clerkship is a 39 weeks program. LIC students are enrolled in four sequential Longitudinal Integrated Clerkship Terms. Integrated specialty training will take place at San Luis Walk-In Clinics in Somerton, Yuma and the San Luis Medical Mall.
For more information please contact Joena Ezroj, WAHEC Director at jezroj@rcbh.edu
###
Media Contact: Alex Bejarano, Public Relations Director
928-315-7910 / abejarano@rcfbh.org
SOMERTON, AZ
Regional Center for Border Health, Inc.
Administration Headquarters
950 E. Main Street, Building A
Somerton, AZ 85350

Mailing Address:
P.O. Box 617
Somerton AZ 85350
Phone: (928) 315-7910
Fax: (928) 627-1255
---
Regional Center for Border Health, Inc.
Family Behavioral Integrated Services
214 W. Main Street
Somerton, AZ 85350

Mailing Address:
P.O. Box 617
Somerton AZ 85350
Phone: (928) 627-9222
Fax: (928) 627-8315
View Map
---
Family Behavioral Integrated Services
1130 E. Main Street
Somerton, AZ 85350

Phone: (928) 627-2017
Fax: (928) 627-2168
---
Center for Children with Special Needs and Autism
214 W. Main Street
Somerton, AZ 85350

---
College of Health Careers
950 E. Main Street, Building A
Somerton, Arizona
Phone: 928-315-7600
Fax: (928) 627-1013

---
SAN LUIS, AZ
San Luis Walk-In Clinic, Inc.
1896 E. Babbitt Lane
San Luis, AZ 85349
Mailing Address:
P.O. Box 1669
San Luis AZ 85349
Phone: (928) 722-6112
Fax: (928) 550-5466
View Map
---
YUMA, AZ
Billing Office:
330 W. 24th St. Ste-2
Yuma, Arizona
(928) 276-3414
Phone:(928) 276-3414
Fax: (928) 276-4823
---
LAKE HAVASU, AZ
Mohave County Office
1940 Mesquite Ave, Suite A
Lake Havasu City, AZ 86403

Phone: (928) 680-1468
Fax: (928) 680-3435
View Map
---
PARKER, AZ
La Paz County Office
601 Riverside Dr #7
Parker, AZ 86344

Phone: (928) 669-4436
Fax: (928) 669-4435
View Map
---
Parker Walk-In Clinic
601 E. Riverside Drive, Ste 2 & 4
Parker, AZ 86344

Phone: (928) 256-4110
Fax: (928) 256-4111

---
Mobile Medical Unit
Yuma, Mohave and La Paz Counties
Phone: (928) 722-6112