News
---
RCBH invites the community to the Open House for the new Somerton Medical Center and College of Health Careers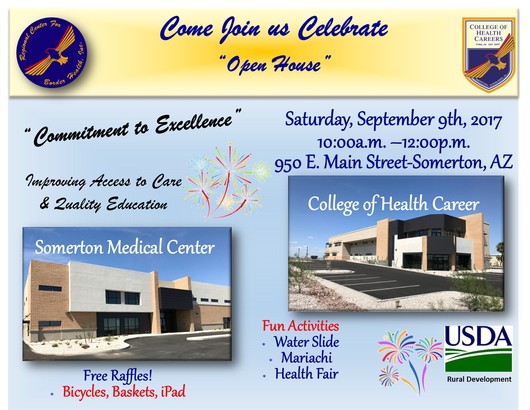 The Regional Center for Border Health, Inc. proudly invites the community to attend the Open House of the Somerton Medical Center and the College of Health Careers Somerton Campus on Saturday, September 9th, 2017.
Ms. Amanda Aguirre, Former State of Arizona Senator, and currently the President and CEO of the RCBH, said it's a pleasure to keep improving access to care and quality in education for the South Yuma County residents, with state of the art equiped buildings.
The complex will include the San Luis Walk-In Clinic, Inc. and the College of Health Careers.
The Open House will take place from 10:00 AM to 12:00 PM at 950 East Main Street, in Somerton, Arizona, where there will be a health fair, mariachi, a water slide for the kids, raffles and more.
For more information please call Ms. Mariajose Almazan, Executive Assistant to the President and CEO, at (928) 276-3414 or at mrincon@rcfbh.org.
***
SOMERTON, AZ
Regional Center for Border Health, Inc.
Administration Headquarters
950 E. Main Street, Building A
Somerton, AZ 85350

Mailing Address:
P.O. Box 617
Somerton AZ 85350
Phone: (928) 315-7910
Fax: (928) 627-1255
---
Regional Center for Border Health, Inc.
Family Behavioral Integrated Services
214 W. Main Street
Somerton, AZ 85350

Mailing Address:
P.O. Box 617
Somerton AZ 85350
Phone: (928) 627-9222
Fax: (928) 627-8315
View Map
---
Family Behavioral Integrated Services
1130 E. Main Street
Somerton, AZ 85350

Phone: (928) 627-2017
Fax: (928) 627-2168
---
Center for Children with Special Needs and Autism
214 W. Main Street
Somerton, AZ 85350

---
SAN LUIS, AZ
San Luis Walk-In Clinic, Inc.
1896 E. Babbitt Lane
San Luis, AZ 85349
Mailing Address:
P.O. Box 1669
San Luis AZ 85349
Phone: (928) 722-6112
Fax: (928) 550-5466
View Map
---
YUMA, AZ
College of Health Careers
950 E. Main Street, Building A
Somerton, Arizona
Phone: 928-315-7600
Fax: (928) 627-1013

Billing Office:
330 W. 24th St. Ste-2
Yuma, Arizona
(928) 276-3414
Phone:(928) 276-3414
Fax: (928) 276-4823
---
LAKE HAVASU, AZ
Mohave County Office
1947 McCulloch Blvd # 105
Lake Havasu, AZ 86403

Phone: (928) 680-1468
Fax: (928) 680-3435
View Map
---
PARKER, AZ
La Paz County Office
601 Riverside Dr #7
Parker, AZ 86344

Phone: (928) 669-4436
Fax: (928) 669-4435
View Map
---
Mobile Medical Unit
Yuma, Mohave and La Paz Counties
Phone: (928) 722-6112