News
---
RCBH honors WWII Veterans at its new SLWIC Somerton Center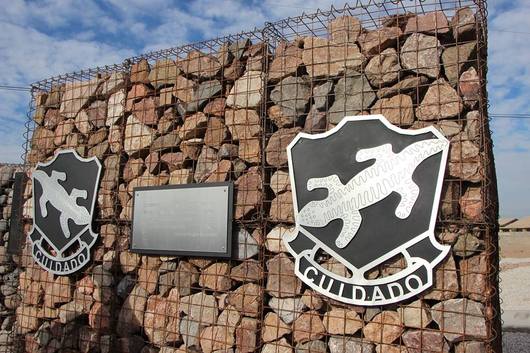 The community and local officials gathered at the RCBH Somerton Medical Center to witness this new addition to the new state of the art facilities
(Somerton).- On Saturday, December 16th, 2017 the Regional Center for Border Health, Inc. celebrated the unveiling of Bushmasters Veterans Memorial Park and Wall in Somerton, with the attendance of several survivors of the Company L, 158th Regimental Combat Team.
Ms. Amanda Aguirre, President and CEO of Regional Center for Border Health, Inc., along with National Guard representatives, made the welcoming remarks, saying the non-profit organization is so honored to place this structure which will always be a live reminder of those who served at the World War II, and those who are still fighting for us to have the Freedom and Liberty in our Great Country.
The community and local officials gathered at the RCBH Somerton Medical Center to witness this new addition to the new state of the art facilities that include the San Luis Walk-In Clinic, Inc., the College of Health Careers and La Cocina by Main Street Cafe in the same place.
The Bushmasters Memorial and Park will be open to the public to admire and learn about them.
///
SOMERTON, AZ
Regional Center for Border Health, Inc.
Administration Headquarters
950 E. Main Street, Building A
Somerton, AZ 85350

Mailing Address:
P.O. Box 617
Somerton AZ 85350
Phone: (928) 315-7910
Fax: (928) 627-1255
---
Regional Center for Border Health, Inc.
Family Behavioral Integrated Services
214 W. Main Street
Somerton, AZ 85350

Mailing Address:
P.O. Box 617
Somerton AZ 85350
Phone: (928) 627-9222
Fax: (928) 627-8315
View Map
---
Family Behavioral Integrated Services
1130 E. Main Street
Somerton, AZ 85350

Phone: (928) 627-2017
Fax: (928) 627-2168
---
Center for Children with Special Needs and Autism
214 W. Main Street
Somerton, AZ 85350

---
College of Health Careers
950 E. Main Street, Building A
Somerton, Arizona
Phone: 928-315-7600
Fax: (928) 627-1013

---
SAN LUIS, AZ
San Luis Walk-In Clinic, Inc.
1896 E. Babbitt Lane
San Luis, AZ 85349
Mailing Address:
P.O. Box 1669
San Luis AZ 85349
Phone: (928) 722-6112
Fax: (928) 550-5466
View Map
---
YUMA, AZ
Billing Office:
330 W. 24th St. Ste-2
Yuma, Arizona
(928) 276-3414
Phone:(928) 276-3414
Fax: (928) 276-4823
---
LAKE HAVASU, AZ
Mohave County Office
1947 McCulloch Blvd # 105
Lake Havasu, AZ 86403

Phone: (928) 680-1468
Fax: (928) 680-3435
View Map
---
PARKER, AZ
La Paz County Office
601 Riverside Dr #7
Parker, AZ 86344

Phone: (928) 669-4436
Fax: (928) 669-4435
View Map
---
Mobile Medical Unit
Yuma, Mohave and La Paz Counties
Phone: (928) 722-6112