News
---
RCBH/COBINAS recognize Sonora students who illustrated the 2023 Binational Clean Air Calendar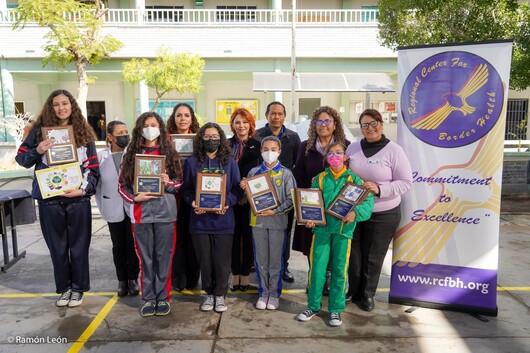 Acknowledges were given to Mr. Roberto Valente Leo Valenzuela, Secundaria 22 Principal for the permission to use their facilities to held the ceremony
Yuma, AZ – (February, 2022).- The Binational Health and Environment Council San Luis Rio Colorado, Sonora and Yuma County, Arizona (COBINAS), sponsored by the Regional Center for Border Health, Inc. (RCBH), recognized Sonora students whose drawings illustrated the 2023 Binational Clean Air Calendar.
On behalf of Ms. Amanda Aguirre, former Arizona State Senator and current President and CEO of RCBH, the ceremony was conducted by Dr. Leticia Sanchez Llamas, current Co-President of COBINAS San Luis Río Colorado and Centro de Salud Urbano Director; Biologist Martha Roman, Co-President of Occupational Health Subcommittee and Miss Catalina Navarro, RCBH International Consultant.
Acknowledges were given to Mr. Roberto Valente Leo Valenzuela, Secundaria 22 Principal for the permission to use their facilities, and City of San Luis Río Colorado Councilwoman Rebecca Ching De León, current President for Border Affairs Comission and Mrs. Ana Elisa Ortega Cons, Supervisor for Zona Escolar 01 de Secundarias Estatales, were asked to assist with the recognitions presentation to the following students:
-Marian Regina Villegas Avilés, Instituto Kino, February
-Laily Zoe Cabanillas Escobedo, Primaria Vicente Guerrero, April
-Assul Antona Castillo, Instituto Kino, June
-Monserrat Raygoza Russo, Secundaria 22, August
-Diana Arlethet Villa Castro, Instituto Kino, October
-Karol Marian Ceniceros Santos, Colegio Bilingüe San Luis, December
-Camila Casillas Mancillas, Secundaria 22, Cover
Law student from El Golfo de Santa Clara, José Alberto Tirado Acosta, is the Athlete dedicating this edition, was not able to attend, and instead sent a motivational message shared with the attendees.
Next Summer COBINAS will invite students to participate in the next edition for 2024.
##
Media Contact: Alex Bejarano, Public Relations Director
928-315-7910 / abejarano@rcfbh.org
SOMERTON, AZ
Regional Center for Border Health, Inc.
Administration Headquarters
950 E. Main Street, Building A
Somerton, AZ 85350

Mailing Address:
P.O. Box 617
Somerton AZ 85350
Phone: (928) 315-7910
Fax: (928) 627-1255
---
Regional Center for Border Health, Inc.
Family Behavioral Integrated Services
214 W. Main Street
Somerton, AZ 85350

Mailing Address:
P.O. Box 617
Somerton AZ 85350
Phone: (928) 627-9222
Fax: (928) 627-8315
View Map
---
Family Behavioral Integrated Services
1130 E. Main Street
Somerton, AZ 85350

Phone: (928) 627-2017
Fax: (928) 627-2168
---
Center for Children with Special Needs and Autism
214 W. Main Street
Somerton, AZ 85350

---
College of Health Careers
950 E. Main Street, Building A
Somerton, Arizona
Phone: 928-315-7600
Fax: (928) 627-1013

---
SAN LUIS, AZ
San Luis Walk-In Clinic, Inc.
1896 E. Babbitt Lane
San Luis, AZ 85349
Mailing Address:
P.O. Box 1669
San Luis AZ 85349
Phone: (928) 722-6112
Fax: (928) 550-5466
View Map
---
YUMA, AZ
Billing Office:
330 W. 24th St. Ste-2
Yuma, Arizona
(928) 276-3414
Phone:(928) 276-3414
Fax: (928) 276-4823
---
LAKE HAVASU, AZ
Mohave County Office
1940 Mesquite Ave, Suite A
Lake Havasu City, AZ 86403

Phone: (928) 680-1468
Fax: (928) 680-3435
View Map
---
PARKER, AZ
La Paz County Office
601 Riverside Dr #7
Parker, AZ 86344

Phone: (928) 669-4436
Fax: (928) 669-4435
View Map
---
Parker Walk-In Clinic
601 E. Riverside Drive, Ste 2 & 4
Parker, AZ 86344

Phone: (928) 256-4110
Fax: (928) 256-4111

---
Mobile Medical Unit
Yuma, Mohave and La Paz Counties
Phone: (928) 722-6112