News
---
RCBH Center for Children with Special Needs & Autism spreads awareness about Autism Spectrum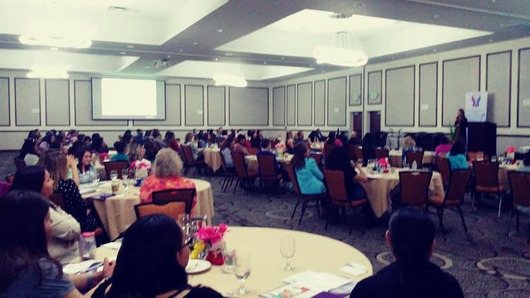 Yuma, AZ – (April 5th, 2019) .- Being aware on the condition and being kind to autistic children and their families as well as keep learning about Autism Spectrum is the message spread today during the "Community Event on Autism Spectrum Disorder", the Regional Center for Border Health, Inc. Center for Children with Special Needs and Autism presented.
More than 100 residents from all Yuma County, Arizona attended the event brought by RCBH to celebrate the Autism Awareness Month.
Ms. Bianca I. Demara, MPH, Director for the Children with Special Needs and Autism, conducted the event where former State of Arizona and current President and CEO of the non-profit organization made the welcome remarks to the attendees.
Following the inauguration of the event, Ms. Megan Mann, Clinical Consultant for the Southwest Autism Research & Resources Center (SARRC) presented on the Status of Autism Spectrum Disorder Screening, Diagnostic & Treatment, highlighting that there are different categories of the spectrum.
Also, the attendees had the opportunity to know from two mothers of autistic children, with the panel: Raising a Child with Autism in Yuma County.
There Ms. Jennifer Delgado and Ms. Irene Garza shared the challenges and achievements their children have had.
Another panel was facilitated on Life Skills-Independent Living: What Do We Need in Yuma with a Q&A opportunity.
Finally, Mr. Connor Smith, resident of Yuma County with Autism, shared his own testimony.
The Children with Special Needs and Autism, established in March 2018, has the purpose to be a multidisciplinary resource center for children with disabilities, and provides services trough San Luis Walk-In Clinic, Inc., which include pediatrics, psychiatry, counseling, care coordination/case management, speech-language therapy, and nutrition/dietetics counseling. To learn more, please visit www.centercsn-autism.org or call (928) 627-1219.
##
Media Contact:
Alex Bejarano, Community Liaison & Director of Public Relations 928-315-7910 abejarano@rcfbh.org
SOMERTON, AZ
Regional Center for Border Health, Inc.
Administration Headquarters
950 E. Main Street, Building A
Somerton, AZ 85350

Mailing Address:
P.O. Box 617
Somerton AZ 85350
Phone: (928) 315-7910
Fax: (928) 627-1255
---
Regional Center for Border Health, Inc.
Family Behavioral Integrated Services
214 W. Main Street
Somerton, AZ 85350

Mailing Address:
P.O. Box 617
Somerton AZ 85350
Phone: (928) 627-9222
Fax: (928) 627-8315
View Map
---
Family Behavioral Integrated Services
1130 E. Main Street
Somerton, AZ 85350

Phone: (928) 627-2017
Fax: (928) 627-2168
---
Center for Children with Special Needs and Autism
214 W. Main Street
Somerton, AZ 85350

---
College of Health Careers
950 E. Main Street, Building A
Somerton, Arizona
Phone: 928-315-7600
Fax: (928) 627-1013

---
SAN LUIS, AZ
San Luis Walk-In Clinic, Inc.
1896 E. Babbitt Lane
San Luis, AZ 85349
Mailing Address:
P.O. Box 1669
San Luis AZ 85349
Phone: (928) 722-6112
Fax: (928) 550-5466
View Map
---
YUMA, AZ
Billing Office:
330 W. 24th St. Ste-2
Yuma, Arizona
(928) 276-3414
Phone:(928) 276-3414
Fax: (928) 276-4823
---
LAKE HAVASU, AZ
Mohave County Office
1947 McCulloch Blvd # 105
Lake Havasu, AZ 86403

Phone: (928) 680-1468
Fax: (928) 680-3435
View Map
---
PARKER, AZ
La Paz County Office
601 Riverside Dr #7
Parker, AZ 86344

Phone: (928) 669-4436
Fax: (928) 669-4435
View Map
---
Mobile Medical Unit
Yuma, Mohave and La Paz Counties
Phone: (928) 722-6112