News
---
RCBH celebrates the Groundbreaking of the new San Luis Medical Mall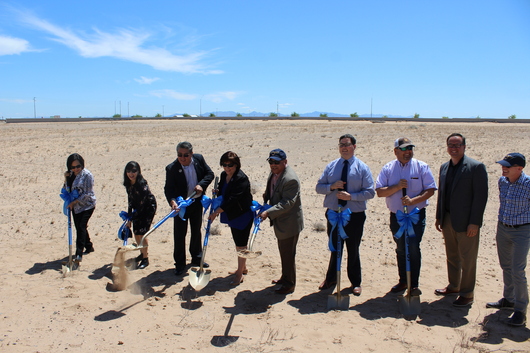 Yuma, AZ – (May 23rd, 2019).- With the goal to provide more services to the community of San Luis, the Regional Center for Border Health, Inc. celebrated the Groundbreaking Ceremony for the San Luis Medical Mall, a 65,000 square foot complex that will be located at the corner of County 24th street and Oak avenue, in San Luis.
Ms. Amanda Aguirre, former Senator of the State of Arizona and current President and CEO of the non-profit organization that serves Yuma, La Paz, and Mohave Counties since almost 30 years, said that the new complex will include several services such as a multidisciplinary clinic with consultation and examination rooms, and will provide attention for chronic diseases, women health and cancer treatment.
Also, the complex will have a drive-thru pharmacy, a landing and take-off facilities for helicopter ambulances for transporting patients, and a minor procedures area.
The new facilities will house another branch for La Cocina cafeteria, a yoga gym, and a conference center.
The construction phase will provide with more than 400 jobs and once in operations will have more than 200 permanent jobs.
The San Luis Medical Mall will be possible thanks to a 28.1 million dollars loan granted by the US Department of Agriculture, and a private financial aid provided by the Industrial Development Authority for a total investment of 35 million dollars.
The San Luis Medical Mall will be operating in 2020.
Several representatives from Yuma County, the Cocopah Indian Tribe, the City of Somerton, the City of San Luis, and San Luis Rio Colorado, Sonora attended the event.
##
Media Contact:
Alex Bejarano, Community Liaison & Director of Public Relations 928-315-7910 abejarano@rcfbh.org
SOMERTON, AZ
Regional Center for Border Health, Inc.
Administration Headquarters
950 E. Main Street, Building A
Somerton, AZ 85350

Mailing Address:
P.O. Box 617
Somerton AZ 85350
Phone: (928) 315-7910
Fax: (928) 627-1255
---
Regional Center for Border Health, Inc.
Family Behavioral Integrated Services
214 W. Main Street
Somerton, AZ 85350

Mailing Address:
P.O. Box 617
Somerton AZ 85350
Phone: (928) 627-9222
Fax: (928) 627-8315
View Map
---
Family Behavioral Integrated Services
1130 E. Main Street
Somerton, AZ 85350

Phone: (928) 627-2017
Fax: (928) 627-2168
---
Center for Children with Special Needs and Autism
214 W. Main Street
Somerton, AZ 85350

---
College of Health Careers
950 E. Main Street, Building A
Somerton, Arizona
Phone: 928-315-7600
Fax: (928) 627-1013

---
SAN LUIS, AZ
San Luis Walk-In Clinic, Inc.
1896 E. Babbitt Lane
San Luis, AZ 85349
Mailing Address:
P.O. Box 1669
San Luis AZ 85349
Phone: (928) 722-6112
Fax: (928) 550-5466
View Map
---
YUMA, AZ
Billing Office:
330 W. 24th St. Ste-2
Yuma, Arizona
(928) 276-3414
Phone:(928) 276-3414
Fax: (928) 276-4823
---
LAKE HAVASU, AZ
Mohave County Office
1940 Mesquite Ave, Suite A
Lake Havasu City, AZ 86403

Phone: (928) 680-1468
Fax: (928) 680-3435
View Map
---
PARKER, AZ
La Paz County Office
601 Riverside Dr #7
Parker, AZ 86344

Phone: (928) 669-4436
Fax: (928) 669-4435
View Map
---
Parker Walk-In Clinic
601 E. Riverside Drive, Ste 2 & 4
Parker, AZ 86344

Phone: (928) 256-4110
Fax: (928) 256-4111

---
Mobile Medical Unit
Yuma, Mohave and La Paz Counties
Phone: (928) 722-6112