News
---
Border students create awareness for a clean air with art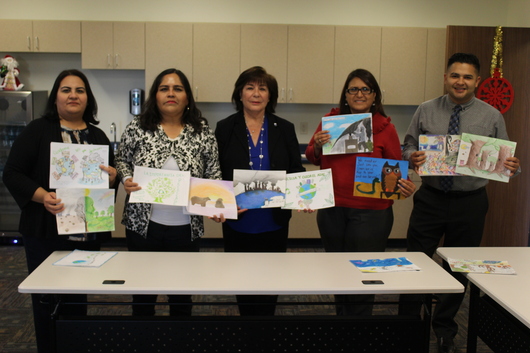 The 2018 edition of the Binational Clean Air will be ready to distribute for free in January 2018
(Somerton, Arizona).- The Regional Center for Border Health, Inc. is proud to announce that this Week the 13 drawings by Students of this Border between San Luis Rio Colorado, Mexico and Yuma County, Arizona were selected to ilustrate the 2018 edition of the Binational Clean Air Calendar.
Ms. Amanda Aguirre, President and CEO of RCBH, said this Initiative is made possible thanks to the collaboration of members of the Binational Health and Environment Council of San Luis Rio Colorado/Yuma County, Arizona, sponsored by the RCBH.
In a session celebrated at the RCBH Headquarters, Ms. Aguirre along with Ms. Martha Roman, Sonoran Ecology and Sustainability Comission in San Luis Rio Colorado, Mr. Alex Bejarano, Public Relations Liaision with RCBH, Ms. Mariajose Almazan, Executive Assistant with RCBH and Miss Catalina Navarro, International Consultant with RCBH, selected the drawings.
For the Cover page, the 2018 Calendar will feature the work of Lourdes Pina Sainz, age 10, from San Luis Rio Colorado's Vicente Guerrero Elementary School.
From San Luis Rio Colorado the following students' art were selected: Emmanuel Valencia Pérez, Angel Jesus Hernandez Rojas and Kitzia Michelle Luna Jiménez, all age 10, also from Vicente Guerrero Elementary School; Mauricio Melendrez Pérez, age 7, from Colegio San Luis; Alma Fernanda Galindo Cruz, 15, from Conalep, and Dafne Zamora Frausto, 16, from Instituto Kino Preparatoria.
From Yuma County the following Students art will appear on the Calendar: Marilyn Garcia, 15, from Kofa High School; Kianna Alcala, 16, from Antelope Union High School; Kenia Garcia, 10, Neylan Macías, 11, and Giselle Rodriguez, 10, all from Arizona Desert Elementary. Also Montserrat Rentería Ruvalcaba, 12, from Centennial Middle School.
The winners will receive an award and RCBH will present a Check for their schools at the next regular session of the Binational Health and Environment Council, to be held in January at San Luis Rio Colorado. And all the students who participated will receive a certificate of participation that RCBH will delivery to their schools.
The 2018 edition will be dedicated by Ms. Aguirre and athlete Joshua Isaac Salguero, who won the Gene Lewis Tournament in Phoenix, Arizona, and practices boxing at the San Luis Youth Center.
The Clean Air Calendar will be available for free in all the schools in the border by January 2018.
This year the drawing contest had a total of 209 entries from San Luis Rio Colorado schools and 116 entries from Yuma County.
For more information please contact Ms. Mariajose Almazan, by calling (928) 236-8001 or at mrincon@rcfbh.org.
***
SOMERTON, AZ
Regional Center for Border Health, Inc.
Administration Headquarters
950 E. Main Street, Building A
Somerton, AZ 85350

Mailing Address:
P.O. Box 617
Somerton AZ 85350
Phone: (928) 315-7910
Fax: (928) 627-1255
---
Regional Center for Border Health, Inc.
Family Behavioral Integrated Services
214 W. Main Street
Somerton, AZ 85350

Mailing Address:
P.O. Box 617
Somerton AZ 85350
Phone: (928) 627-9222
Fax: (928) 627-8315
View Map
---
Family Behavioral Integrated Services
1130 E. Main Street
Somerton, AZ 85350

Phone: (928) 627-2017
Fax: (928) 627-2168
---
Center for Children with Special Needs and Autism
214 W. Main Street
Somerton, AZ 85350

---
SAN LUIS, AZ
San Luis Walk-In Clinic, Inc.
1896 E. Babbitt Lane
San Luis, AZ 85349
Mailing Address:
P.O. Box 1669
San Luis AZ 85349
Phone: (928) 722-6112
Fax: (928) 550-5466
View Map
---
YUMA, AZ
College of Health Careers
950 E. Main Street, Building A
Somerton, Arizona
Phone: 928-315-7600
Fax: (928) 627-1013

Billing Office:
330 W. 24th St. Ste-2
Yuma, Arizona
(928) 276-3414
Phone:(928) 276-3414
Fax: (928) 276-4823
---
LAKE HAVASU, AZ
Mohave County Office
1947 McCulloch Blvd # 105
Lake Havasu, AZ 86403

Phone: (928) 680-1468
Fax: (928) 680-3435
View Map
---
PARKER, AZ
La Paz County Office
601 Riverside Dr #7
Parker, AZ 86344

Phone: (928) 669-4436
Fax: (928) 669-4435
View Map
---
Mobile Medical Unit
Yuma, Mohave and La Paz Counties
Phone: (928) 722-6112