News
---
RCBH makes donation to Yuma Firefighters to support local charities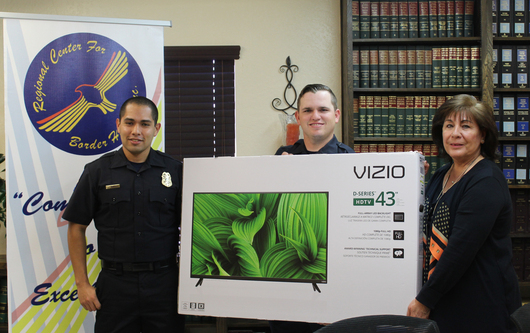 The Firefighters stated the TV will be used in a fundraising event to be held on June 3

rd

, 2017 where all proceeds will benefit local charities
Yuma, Arizona. – The Regional Center for Border Health, Inc. made a special donation on Thrusday, March 23rd, 2017 to the Yuma United Firefighters, a 43" TV was presented by Ms. Amanda Aguirre, former State of Arizona Senator and current President and CEO of RCBH, to Certified Emergency Paramedics Cody Pelfrey and James Chavez.
The Firefighters stated the TV will be used in a fundraising event to be held on June 3rd, 2017 where all proceeds will benefit local charities.
"It is with much pleasure for us at RCBH to donate to local charities, and to contribute to our Yuma County first responders who are an integral part of public safety in our community", said Ms. Aguirre.
Both Firefighters thanked Ms. Aguirre and promised to remind the organization of fundraising event.
For more information about RCBH please contact Mrs. Mariajose Almazan, Executive Assistant to the President and CEO at (928) 276-3414 or by e-mail at mrincon@rcfbh.org.
SOMERTON, AZ
Regional Center for Border Health, Inc.
Administration Headquarters
950 E. Main Street, Building A
Somerton, AZ 85350

Mailing Address:
P.O. Box 617
Somerton AZ 85350
Phone: (928) 315-7910
Fax: (928) 627-1255
---
Regional Center for Border Health, Inc.
Family Behavioral Integrated Services
214 W. Main Street
Somerton, AZ 85350

Mailing Address:
P.O. Box 617
Somerton AZ 85350
Phone: (928) 627-9222
Fax: (928) 627-8315
View Map
---
Family Behavioral Integrated Services
1130 E. Main Street
Somerton, AZ 85350

Phone: (928) 627-2017
Fax: (928) 627-2168
---
Center for Children with Special Needs and Autism
214 W. Main Street
Somerton, AZ 85350

---
SAN LUIS, AZ
San Luis Walk-In Clinic, Inc.
1896 E. Babbitt Lane
San Luis, AZ 85349
Mailing Address:
P.O. Box 1669
San Luis AZ 85349
Phone: (928) 722-6112
Fax: (928) 550-5466
View Map
---
YUMA, AZ
College of Health Careers
950 E. Main Street, Building A
Somerton, Arizona
Phone: 928-315-7600
Fax: (928) 627-1013

Billing Office:
330 W. 24th St. Ste-2
Yuma, Arizona
(928) 276-3414
Phone:(928) 276-3414
Fax: (928) 276-4823
---
LAKE HAVASU, AZ
Mohave County Office
1947 McCulloch Blvd # 105
Lake Havasu, AZ 86403

Phone: (928) 680-1468
Fax: (928) 680-3435
View Map
---
PARKER, AZ
La Paz County Office
601 Riverside Dr #7
Parker, AZ 86344

Phone: (928) 669-4436
Fax: (928) 669-4435
View Map
---
Mobile Medical Unit
Yuma, Mohave and La Paz Counties
Phone: (928) 722-6112